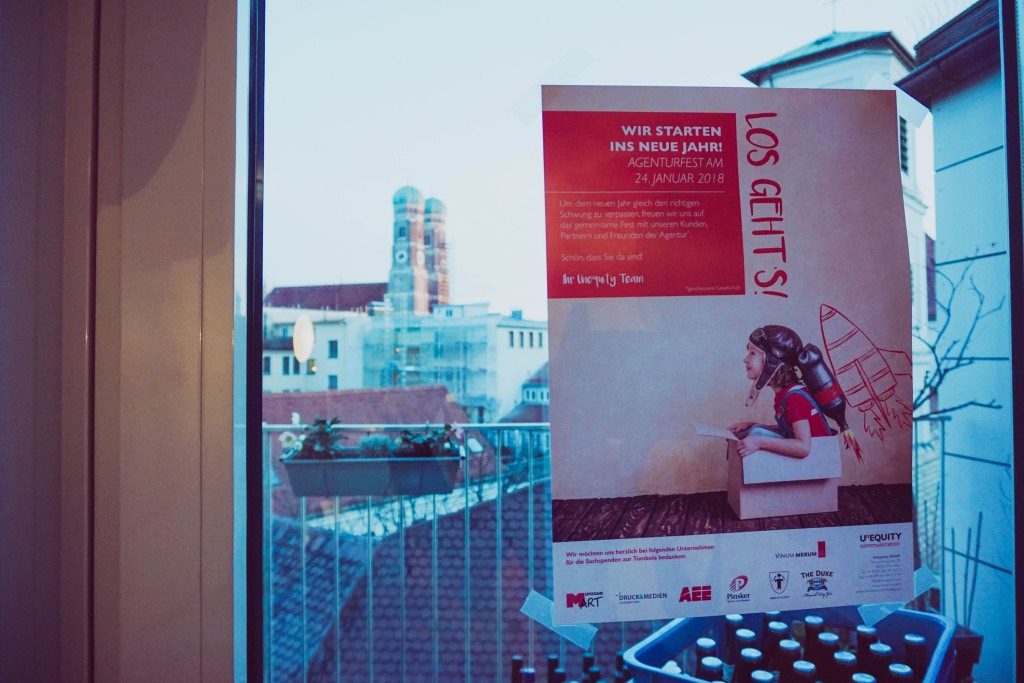 We could hardly believe it ourselves: Unequity has started its 7th year! It was a wonderful occasion to celebrate, so on January 24th we invited clients, partners, suppliers, artists, neighbours and of course our entire team to enjoy it with us!
We are proud of our success: For six years now we have put together complex communications campaigns for national and international companies, and we continue to come up with exciting and creative solutions.
Our agency party was no exception either: A group exhibition of current artworks created the backdrop, curated from a range of artists represented by MuniqueART, a gallery in Munich also run by Simone Schmitt-Schillig, Managing Director at Unequity GmbH, since 2014.
In the afternoon, our agency team presented a selection of particularly interesting campaigns that we have implemented for clients in recent years. After that, our anti-consultant Sven Franke presented his theories on the subject of "How we will work in the future", which inspired a lively discussion among the experts on hand.
That was enough work, though…then it was time for the social part (see networking :-)) of the evening with loads of other guests enjoying delicious drinks and finger food. One other highlight was a visit from Petra Reiter, patron of the Munich initiative "Bunte Münchner Kindl", and wife of Munich's Lord Mayor, who was not only excited about Unequity's now longstanding commitment to her programme but also about the art on exhibit at the party.
The evening carried on wonderfully with fun conversation and of course the odd glass of wine and gin & tonics. To be continued…that much is certain!
We would like to thank all of our guests for the lovely evening and of course our clients, partners and supporters for their loyalty and the many years of successful collaboration.
Unequity Corporate Social Responsibility
As a company, and as a team, we wish to share our success. That's why we commit to taking action every year to benefit various social, ecological, or community charitable projects. Our campaigns invite our networks to get involved. For each contribution from our community, we increase our cash donation to the charity. With this, we aim to make a difference, in line with our corporate and personal values – responsibility, empathy, and respect.