A successful communications experiment
Our Easter campaign has come to an end, and we are particularly pleased that we achieved our most important goal: The Easter Bunny got his "ears" back in time for Easter, thanks to the active support of all participants.
We'd like to thank you all very much for your amusing and creative contributions
We are delighted to announce that–thanks to all these contributions–we have raised 780 EUR for the Munich Foodbank.
On behalf of the Unequity Team and all the participants, Simone Schmitt-Schillig, Elke Grüßing and Alexandra Leyk presented our donation to the President of the Board and Founder of the Munich Foodbank (Münchner Tafel e.V.), Ms. Hannelore Kiethe on April 28. We were impressed by her enthusiasm and dedication to this worthy cause.
Looking back on the campaign
We had several goals for the campaign, and saw it as an opportunity to experiment and find out:
Who do we reach via our Unequity LinkedIn page?
Who engages with us on this channel, and how?
How successful is a social media campaign if we don't address our followers directly?
How do our new colleagues use our campaign planning and management tools?
Does our new project management process work?
To find out, we approached this 'trial project' just as we would a client project, and measuring the success of a campaign is part of our normal campaign review process.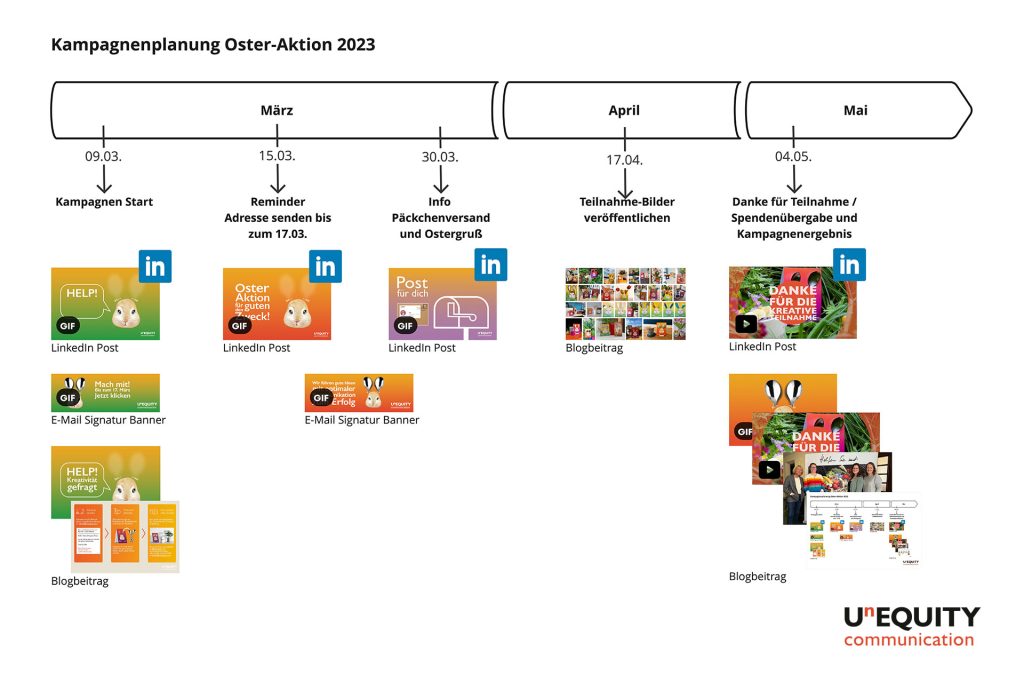 Valuable insights in all areas
During the project, we gathered many positive and fascinating insights, not only around the quantity and quality of the engagement, but also in our internal collaboration and the tools we used. The campaign was valuable for these—at times unexpected—insights alone.
We were delighted that so many of our customers and partners were creatively inspired and got into the spirit of the campaign. This fostered and strengthened relationships with long-term and newer contacts. In addition, the interaction with existing contacts brought us an unexpectedly high number of new followers. Our reach grew significantly in the campaign period, with the number of reactions increasing by 44%, and comments by an astounding 150%. The Easter campaign was deliberately limited to LinkedIn, and the results confirmed our assumption that this social media channel provides excellent contact opportunities.
When it comes to internal communications, the project was also a success, as evidenced by the excellent teamwork between the 'old hands' and the 'new faces'. Our new processes and proven methods worked together well, and the new digital tools we tested will be added to our toolbox. Our project approach 'Explore – Engage – Shine' works well, not only for our customer projects, but also for Unequity campaigns. It was also fascinating to see the positive impact of including the entire Unequity team in the social media interaction.
Our conclusion:
We are delighted with the valuable, new insights generated by the campaign, and that we can make a healthy donation to the Munich foodbank—with our original donation of 200 EUR increased by 5 EUR for every photo posted.
Creative ideas for active engagement
The core competence of Unequity is creative solutions to communicate Total Rewards measures. We often deal with complex offers, such as company pension schemes, employee share programs, or special incentive programs. Our goal is to enable authentic, two-way communication between the company and their employees. An optimal communication campaign must arouse interest in the offer and provide a clear explanation of complicated content, while taking into account the image and culture of the company and staying within certain limits.
We make your good idea a success with outstanding communication.
Unequity Corporate Social Responsibility
As a company, and as a team, we wish to share our success. That's why we commit to taking action every year to benefit various social, ecological, or community charitable projects. Our campaigns invite our networks to get involved. For each contribution from our community, we increase our cash donation to the charity. With this, we aim to make a difference, in line with our corporate and personal values – responsibility, empathy, and respect.